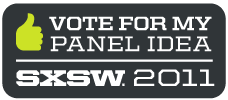 Most of you know that I'm really big on getting "the ungeeked" to go to one or two tech-related conferences or events per year.
There is no more effective way to figure out how people are using technology and mobile devices right now to communicate; it's the best market research you can do and it will put you way ahead of competitors who are still scratching their heads over Twitter (which really burst on the scene at SXSWi 2007, the South by Southwest Interactive tech conference, one of the world's largest.)
I recently wrote a guest post about this on the BlogWorld and New Media Expo blog – Go Where the Geeks Are: Why Tech Events Matter for Tourism and Travel – in support of the all-day tourism workshop that we're doing at BlogWorld on October 14.
Meantime, the Panel Picker is now open for SXSWi 2011 in March – one of the unique things about "South by" is that part of the panel selection process is pubic voting and commenting on the proposed panels. You can give your feedback whether you're attending SXSWi or not; there is a quick and painless registration process to do so.
I've proposed a panel with myself and two other speakers – my Tourism Currents business partner Becky McCray and travel/tourism entrepreneur Andy Hayes.
It's titled Tourism Catches On: Old Industry Meets New Media.
Issues we plan to talk about include:
How does story and relationship work with new marketing online?
Can destinations work with online review sites or is it all out of their control?
What roadblocks hold tourism organizations back and how can they be overcome?
How can small staff groups possibly implement all these new tools when all this old work still has to get done?
What's coming next in tourism and destination marketing?
If you have a moment, I'd really appreciate your votes, comments and feedback on our Tourism Catches On panel proposal.
Technology is for everyone – we want more mainstream industries and interest at SXSWi and we hope you do, too.